This contribution is frustrating, as it obviously shares an important theme -- the mighty pen, and all that follows from its power -- with the story's central narrative, but at the same time, only contains thematic rather than narrative echoes: it's about the same thing, but it isn't the same thing.

But it could be worked in. Unlike some new material we've seen ultimately incorporated into the comic, it's merely largely unrelated rather than entirely unrelated. As long as there's a single strand of spiderweb connecting them, they can be reeled in and bound together.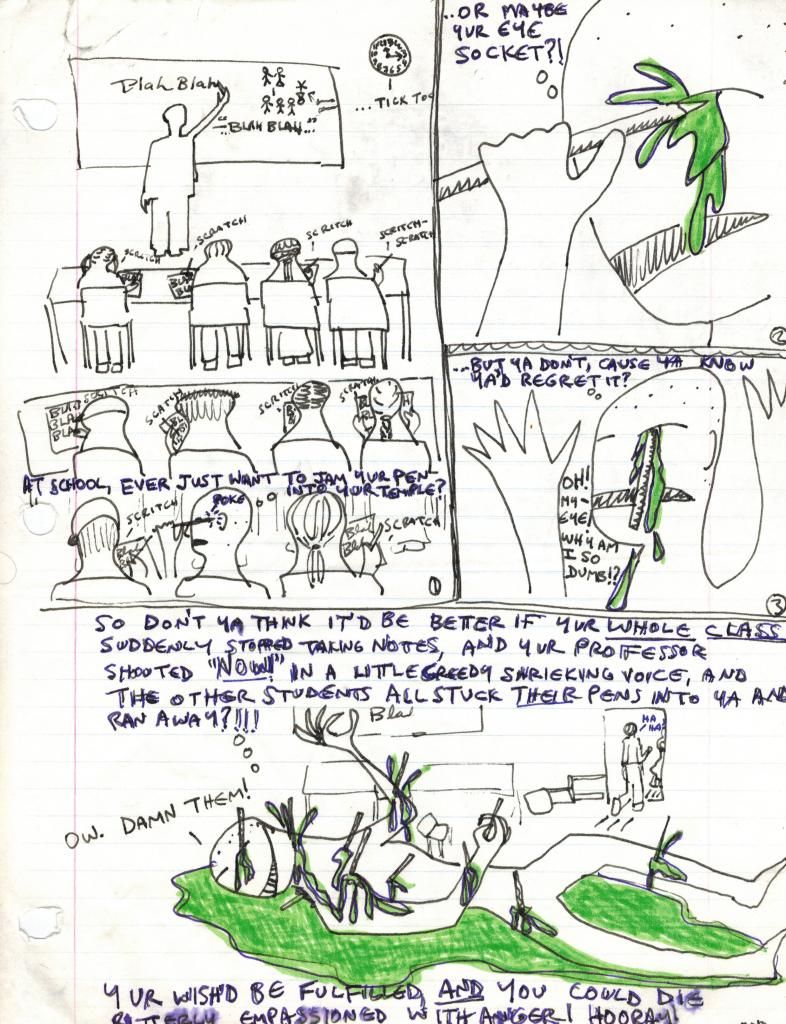 AT SCHOOL, EVER JUST WANT TO JAM YUR PEN INTO YOUR TEMPLE?
- SCRATCH - SCRATCH - SCRITCH - SCRITCH-SCRATCH -SCRITCH -SCRATCH -SCRITCH -SCRATCH -SCRITCH - POKE - SCRATCH

OR MAYBE YUR EYE SOCKET?!

... BUT YA DON'T, CAUSE YA KNOW YA'D REGRET IT?

"OH! MY EYE! WHY AM I SO DUMB?"

SO DON'T YA THINK IT'D BE BETTER IF YUR WHOLE CLASS SUDDENLY STOPPED TAKING NOTES, AND YUR PROFESSOR SHOUTED 'NOW!" IN A LITTLE GREEDY SHRIEKING VOICE, AND THE OTHER STUDENTS ALL STUCK THEIR PENS INTO YA AND RAN AWAY?!!!

"HA HA!"

"OH. DAMN THEM!"

YUR WISH'D BE FULFILLED, AND YOU COULD DIE BITTERLY EMPASSIONED WITH ANGER! HOORAY!
Also: gross! But -- good use of highlighter for colourful contrast, something hitherto unknown over this comic's 30-odd pages.